MARCH 20
1:30-2:30pm PST
Presenter: Jessica Craddock, The Artist Market Co.
Stand Out in the Crowded Artist World
You've made some sales, but feel like you're not getting anywhere fast. The hours you're putting in greatly outweigh the art that's going out the door. Everyday you hear a million ways that promise a magic bullet, but this makes you either feel like Tigger bouncing from thing to thing, or you become paralyzed.
In this webinar, you won't be taught "the" secret, but instead, you'll learn:
How to get the next answers YOU most need — without paying a dime
Where to focus your time and energy for the fastest growth (this answer will be different for everyone!)
3 steps to make your art business feel grounded, flowy and inspired
MARCH 30
6:30-7:30pm PST
Hosts: Roberta Kiphuth, Jan Davis, Rene Switkes
Social Media: Using Facebook, Instagram & Twitter
Social media is a big part of marketing a business. As an artist, your business is YOU and your art. Many can get overwhelmed with social media and attempt to do too much. So it is important to understand how you can use social media in a more productive way without giving up that creative time to do what you enjoy.
This webinar will help learn:
Basic information on Facebook, Instagram and Twitter accounts
If social media is the right marketing tool for you
How to use Facebook, Instagram and Twitter for promoting your art
To create more compelling posts
How other artists are using social for marketing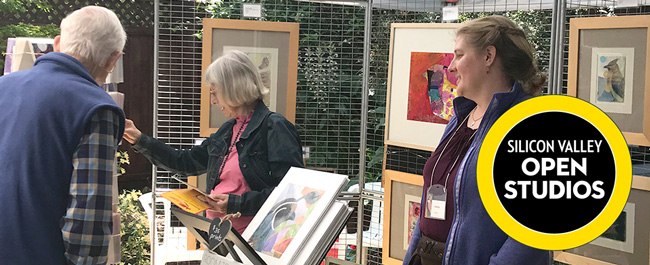 APRIL 13
6:30-7:30pm PST
Hosts: Roberta Kiphuth, Various Open Studios artists
Preparing for Open Studios

You are all signed up for Open Studios. Yeah! But you might be wondering how to prepare (especially if this is your first time showing). This session will provide some basic information on Silicon Valley Open Studios, about what to expect, preparing your art/your space for show, and some ways you can market your open studio event.
Hear from other artists who have participated and get the opportunity to ask them questions about their experience and tips they might have for making your event more successful.
APRIL 26
6:30-7:30pm PST
Hosts: Roberta Kiphuth, Renee Switkes, Ida Gamban
Social Media: Blogging, Videos & Email
Most people think of social media as only things like Facebook, Instagram, Pinterest, Tik Tok, etc. But blogging, videos and email are also forms of social media. What makes these forms a bit different is that there is more control over the content and how it is shared and the ability to share a more personal story.
We will talk about how blogging, videos and email can help to build your art business, more personal connections and provide more control over your story.
Past Webinars
MARCH 16
6:30-7:30pm PST
Presenter: Roberta Kiphuth
Copyright Basics for Artists
Part of being an artist is sharing our creations with others. But we also want to make sure that we protect what we share to maintain copyright in our works.
This webinar will help you better understand copyright law, options if someone infringes on your copyright and provides suggestions for protecting artwork that you create, sell or post online.